Remote notifications
While Loop app currently sends notifications locally on Loop user's iPhone, parents and caregivers likely want those messages on their phones, too. We can achieve this functionality through a combination of Nightscout, IFTTT, Google, and Pushover.
Traditionally, most people may already know of Pushover alerts through their NS site. The old Loop docs had set up for how to add your PUSHOVER_ANNOUNCEMENT_KEY , PUSHOVER_API_TOKEN, and PUSHOVER_USER_KEY in your Heroku settings to get notifications on the non-looping phones of parents and caregivers. The drawback for that method is that you could not necessarily fine-tune the alerts (maybe you wanted battery alarms on your NS website, but not get pushovers for them…a bit hard to separate out the environments that way) and Pushover had a demanding acknowledgment requirement. If you failed to acknowledge an alert, you may end up getting alarm fatigue fairly quickly as the alarm repeated itself.
Using Pushover THROUGH IFTTT however, we can improve the possible notifications and who receives which ones. For example, a teenage Looper may want notifications when his/her pump site needs changing and when his/her Dexcom is about to expire in the next day. S/he already gets local notifications on his/her phone via Loop for low reservoir volumes, low pump battery, and Loop failures. Dexcom app provides high/low BG notifications locally, too. If s/he were to get those same alarms via Pushover, s/he would inevitably get alarm fatigue. A remotely-monitoring parent may want additional information, like a pushover alert when the school nurse boluses for lunch, as well as Loop failures, low iPhone battery level for the child, low pump battery, and other such information that might be useful. Perhaps there's also an emergency contact person that you only want to get high/low BG alerts…you can set that up as well quite easily.
The basic concept is that NS puts out an event that triggers the IFTTT service called Webhooks (old name was "Maker Webhooks" hence you may see references to "maker" in NS docs). Actually, there are several types of events that NS has programmed in all ready to use in IFTTT.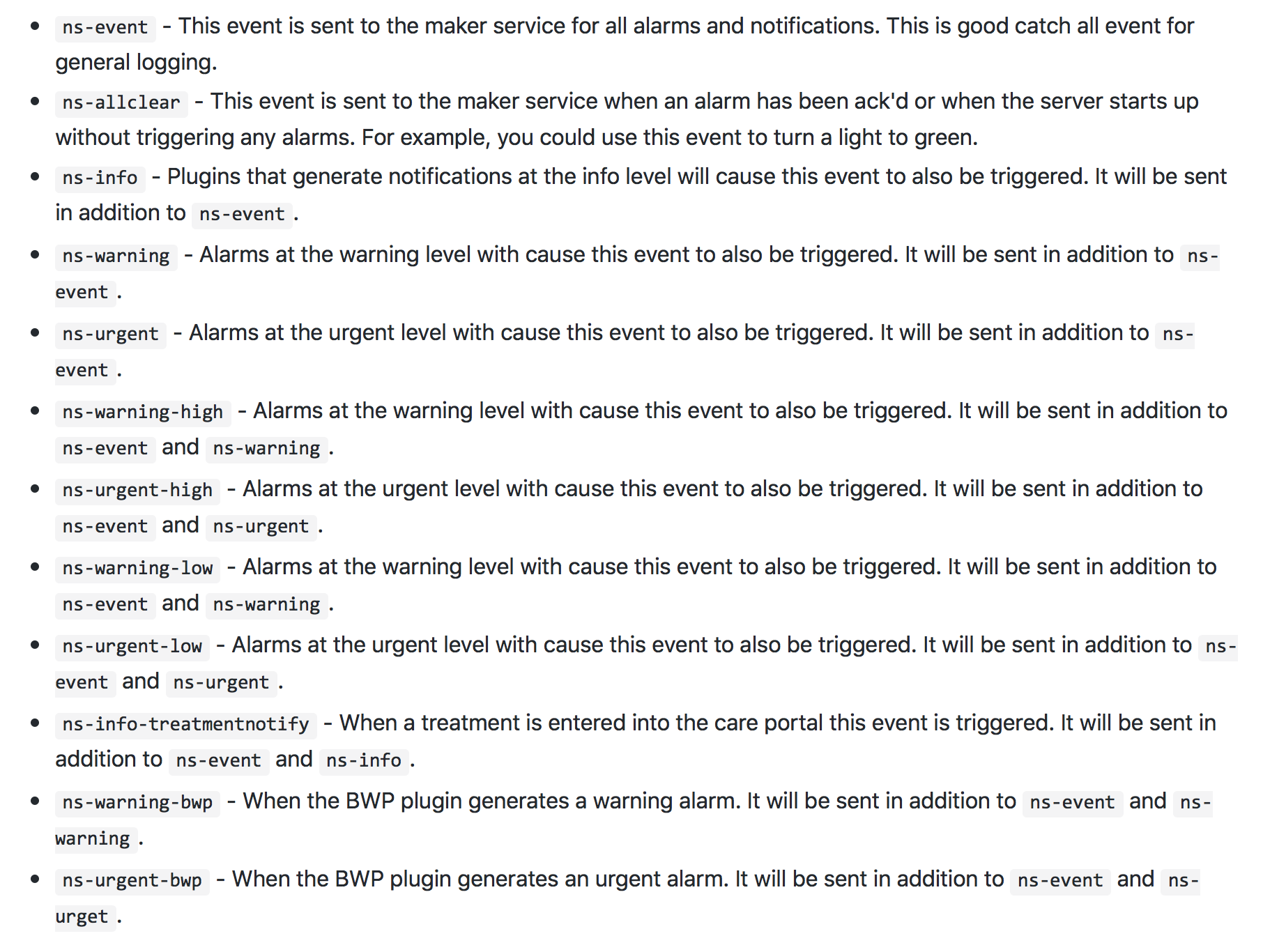 For this setup, we are going to use the most general logging event called ns-event. You'll get all the alarms and notifications logged, and then you can decide in subsequent steps which ones you'd actually like to send to your phone for pushover notification.
As a brief roadmap for what we are going to do:
Get necessary accounts setup

Add a folder to your Google Drive

Make an IFTTT applet to log NS events to your Google Spreadsheets

Enable NS to work with that new IFTTT applet

Make an IFTTT applet to send Pushover alert when the Google Spreadsheet is updated