Discover your Nightscout site
Privacy
Having the URL of your Nightscout site, anybody can view your BG and run reports of your data. It it strongly recommended that you secure your site.
It should look very similar to this when your uploader has added some data.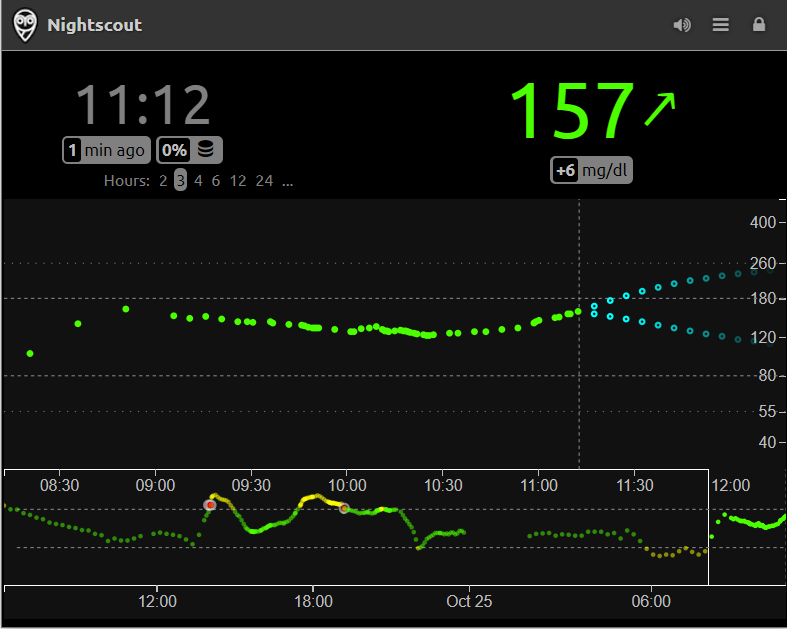 The central part will show your recent BG, you can select how many hours you want to be displayed with Hours: 2 3 4 6 12 24. The pale blue dots are the AR2 prevision as explained here. The lower part will display the last 48 hours and you can use the lower right selection to browse your old data.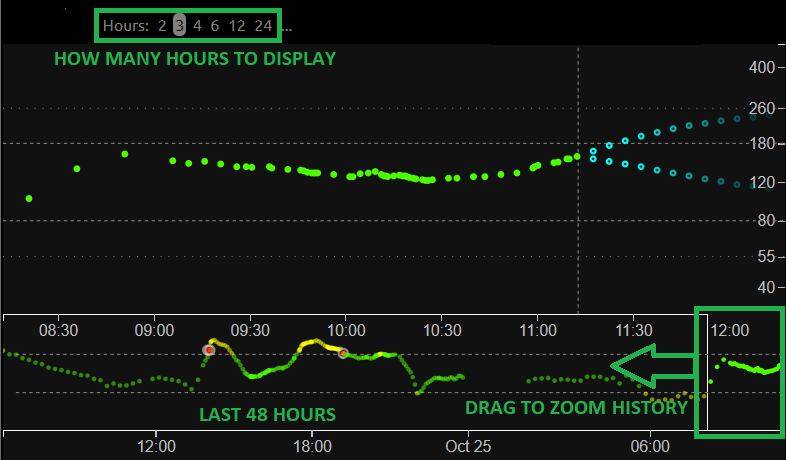 In the upper part you'll see the current time of your site, your current BG (and how long ago it was measured) plus the delta with the previous measurement and a trend arrow. More explanations here.
Optionally you will see other indications (pills) that can be personalized in your variables and plugins like detailed here.

Authenticate yourself
By default you site opens read only, you need to authenticate using your API secret in order to modify settings and add treatments. Click on the lock icon, enter your API secret and click Update.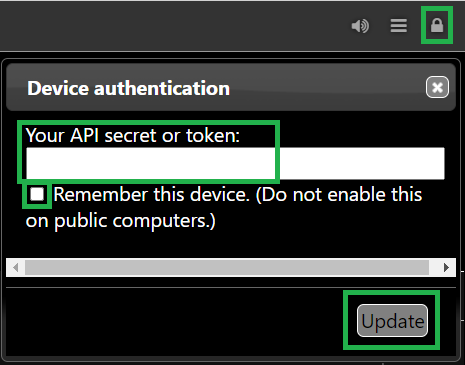 This will unlock your careportal (if enabled) and edit (if enabled).

Add a treatment (

careportal

)
Some uploaders will send treatments to Nightscout but others won't. If you whish to do this manually, careportal is here for that.
+ will open an interface to manually enter treatments.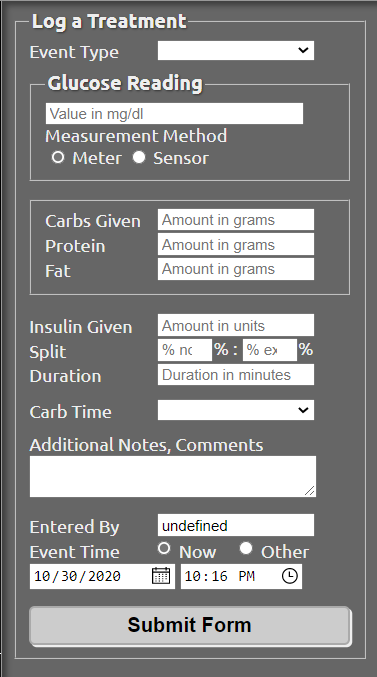 In the Event Type drop down menu, you can select the treatment type you want to add. Additional available entries will depend on the plugins you enabled like Loop and OpenAPS/AAPS.
Edit Mode (

edit

)
For values still present on your display (last 48 hours), you can use Edit to move or delete bolus and correction treatments.

will change color to red in edit mode

.
Drag the treatment in the past or future in the black area to move both food and insulin.

If you want to move only insulin drop in the blue area.

For carbs only, in the white area.

To delete a complete treatment drop it in the red delete area.
Once done, exit the edit mode by de-selecting it (white on black background).